Tollok Mechanical Locking Bushes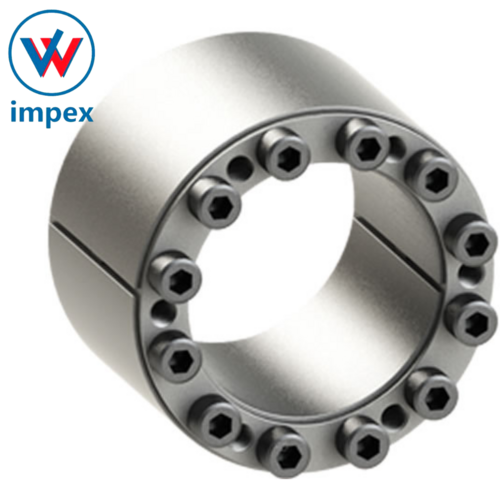 Tollok Mechanical Locking Bushes
Price And Quantity
Product Specifications
Different Available

Stainless Steel
Product Description
Tollok Mechanical Locking Bushes
Tollok S.p.A are a leading manufacturer of locking bushes with plants in Italy and the USA. They joined the Rexnord Group in 2015. Their wide range allows these friction connections to replace key ways in all industrial machinery.

TLK110 COMPACT LOCKING BUSHES
Shafts 6 to 130mm
Thin wall construction suits hubs with
small diameters, interchangeable with some ETP products.
Medium torques
Self-centering
No axial hub movement during mounting
Very low surface pressures
TLK130/131 GENERAL PURPOSE LOCKING BUSHES
Shafts 20 to 180mm
General purpose designs, TLK131 prevents axial hub movement during mounting Medium to high torques
Self-centering
Low to medium surface pressures
Economic
TLK200 INDUSTRY STANDARD LOCKING BUSHES
Shafts 20 to 900mm
General purpose bushes to industry standard
dimensions accepting wide tolerances
Medium to high torques
Not self-centering (use a guide)
Medium to high surface pressures
No axial hub movement during mounting
Readily available
Concentricity depends on guide
TLK350 EASY MOUNTING LOCKING ASSEMBLIES
Shafts 6 to 50mm
Economical bushes with few screws to
make mounting easy
Medium to high torques
Self-centering
Small hub movement during mounting
Very low surface pressures
Good concentricity 0.02 - 0.04 TIR
TLK400/450 HEAVY DUTY LOCKING BUSHES
Shafts 25 to 400mm
High torque transmission with the capacity to
accept bending moments from rolls.
Very high torques
Self-centering
TLK400 has no hub movement during
mounting, TLK450 has small movement but
7% more transmittable torque.
Low surface pressures
Good concentricity 0.02 - 0.04mm TIR.
TLK 132/133/134/139 BUSHES
Locking bushes that are variants on the popular 130/131 series. Suits shafts from 14 to 200mm, medium torques, economic prices

TLK250 LOW COST BUSHES
Simple low torque locking bushes that are fixed by a ring nut around the shaft, sizes 14 to 70mm.

TLK300 LOCKING RINGS
Taper rings in pairs suiting integration to machine designs where the axial force is applied externally, shafts 6 to 540mm.