Smith Cam Follower Bearing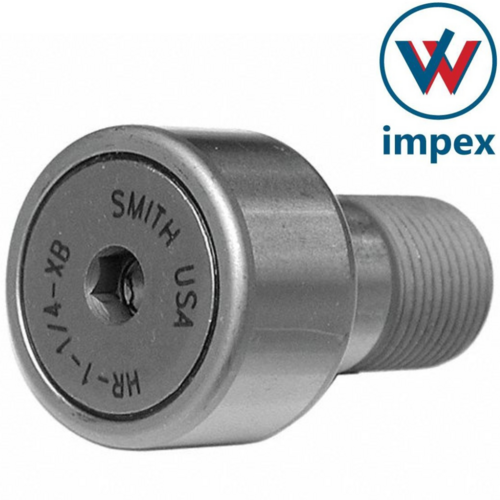 Smith Cam Follower Bearing
Product Description
Cam Follower Needle RollerBearings in Inch & Metric sizes, Stainless Steel Cam Followers for specialcorrosive applications, Cam Followers with self-lubricating engineered plasticbushings, Smith-Trax withtapered roller bearings and deep-groove ball bearings for high-thrust loadapplications, Aerospace and Military approved Needle Roller Bearings for engineand airframe applications, Spherical Plain Bearings, Drill Jig Bushings andSpecialty Aerospace products and assemblies.
As well as their existing productline, we are ready to assist you with the manufacture of custom-made products,precision machine components and assemblies. ISO 9001 and AS 9100 registered.
Smith Bearing serves the global market place witha network of Industrial and Aerospace distributors, manufacturing plants andsales offices throughout the world. The structure of our operation affords usthe ability to give highly personalized attention to every customer. Mostimportantly, this structure gives us the ability to respond immediately to ourcustomers request as well as providing highly cost-effective products.
Smith Bearing has a fully-integratedmanufacturing facility capable of producing high-precision needle rollerbearings for both the Aerospace and Industrial market. Our computerized (CNC)grinding and precision machining centres , considered to be the most advanced inthe industry are capable of manufacturing a wide range of products to exactingtolerances in order to meet the needs of our customers. Their advancedmetallurgical department routinely verifies and tests all raw materials,plating and heat-treating processes used in the manufacturing of our products.This careful analysis and scrutiny in each phase of our procedure assuresproper conformance to all Aerospace requirements and guarantees that onlymaterials meeting our rigid standards are used in Smith Bearing products.
*

Yoke Type IndustrialCam Follower

s


Smith-Trax Precision Carbon Steel Heavy Duty Shafts are designed andmanufactured to tight tolerances to guarantee the most efficient product fitand reliability with Smith-Trax Yoke Type Track Rollers. Smith-Trax heavy DutyShafts removes the need for customer fabrication.
AerospaceBearings
Approved to manufactureto military and aerospace specifications meeting the standards of AS-3990. Theirengine bearings are used in thrust reversers, after burners and divergentnozzles. Their airframe bearings are used in flap-tracks, canopies and landinggear.