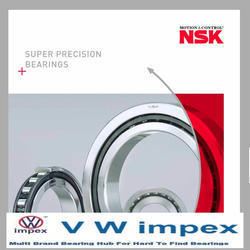 NSK Super Precision Bearing
Product Description
Standard Series of High Precision Angular Contact Ball Bearings, A basic series of
NSK bearing (Super Precision Angular Contact Ball Bearing)
that meets ISO standards.
Features
:
NSK's Z steel, a long life bearing steel, is used as the standard material
The 70 and 79 series are sealed with a grease life that has been improved by one and half times
Robust Series of Ultra High-Speed Angular Contact Ball Bearings:
This series developed with the best of material, evaluation, and analysis technologies, of which NSK is proud. This is highly functional series for machine tool. In addition, the sealed type of this series, which offers longer service life and shows excellent environmental friendliness is available.
Features
:
Reduces heat generation and achieves high-speed rotation
X type bearing, which is made of SHX steel developed by NSK, offers long service life for use in high-speed applications
Wide lineup to meet various applications is achieved
Grease life of the sealed type has been extended
Robust Series, Spinshot it of Ultra High-Speed Angular Contact Ball Bearing With Oil-Air Lubrication
Ultra High-Speed rotation and low-noise performance has been achieved through focusing efforts on optimizing the oil-air lubrication system of this bearing.
Features
:
Achieves 40,000 min-1 with ISO-40 equivalent taper using oil-air lubrication.
Noise levels reduced by approximately 3 dB to 5 dB in comparison with conventional oil-air lubrication
Achieves 40,000 min-1 with about half of the air volume of conventional oil-air lubrication
Robust BGR Series of Ultra High Precision Angular Contact Ball Bearings:
Accommodate the need for high precision and ultra high-speed for shaft diameters of less than 30 mm. Highly functional series that support the high performance requirements of compact spindles.
Features
:
Ultra high-speed bearings designed specifically for compact spindles
X-type with inner and outer rings that are made of excellent heat resistant and wear resistant SHX steel help high-speed applications achieve a long service life
High precision specifications are standard
Robust Series of Ultra High-Speed Angular Contact Thrust Ball Bearings:
A Robust series of angular contact ball bearings for sustaining axial loads that achieves high-speed and high rigidity performance.
Contact Us
SCF 503, 2ND Floor Motor Market, Manimajra, Chandigarh, Chandigarh, 160101, India
Phone :+918045801215