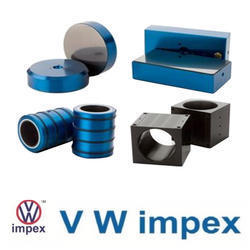 New Way Air Bearings
Product Description
Although air bearings have been around for many years, New Way has played a significant role in the development of the field beyond an orifice based approach as the primary proponent and manufacturer of Porous Mediaâ"¢ air bearing technology. Here's where you'll find a historical perspective.

Air Bearing

The ideal components for building frictionless linear motion, New Way Flat Air Bearings were the original standard, off-the-shelf, porous media air bearing product line, developed by New Way in the 1980's. They are now available in round or rectangular configurations.
Bonded Bearings
Bonded Bearings are the ideal components for building low profile/high stiff frictionless linear motion. The New Way Bonded Bearings were originally designed into our made-to-order linear slide assemblies. They are now available as a made-to-order component in rectangular configurations.
Air Bushings
The New Way air bushing is designed to make air bearing technology readily available to engineers with pre-existing designs based on round shaft guides. These components run on standard precision steel shafting and are available in Metric or English sizes.
Thrust Bushings
New Way Thrust bushings run on standard English precision steel shafting. These bushings are designed to allow for radial motion but constrain one end axially to prevent linear motion in one direction.
VPL Air Bearings
For applications where pre-loading is difficult or impossible, Vacuum Preloaded Air Bearings add vacuum to New Way Porous Mediaâ"¢ Technology. Simply then, these bearings hold themselves down while simultaneously lifting themselves from the guide surface
Radial Air Bearings
The ideal components for building frictionless rotary motion, New Way Radial Air Bearings provide a fast, made-to-order solution. In either concave or convex configurations, this new product line gives you all the differential advantages of New Way standard air bearings.
Spherical Air Bearings
New Way Air Bearingsmanufactures custom spherical air bearings ideal for use in aerospace and defense applications.These scalable components support a sphere on a thin layer of air, providing all the benefits of frictionless motion. A vacuum pre-load can also be added. The result is a whole new level of accuracy and control.
Air Bars
New Way offers a line of modular air bearing components specifically designed to meet the non-contact glass-handling requirements of the Flat Panel Display and Solar Module manufacturing processes, including the new low-cost, high performance Transition Zone Air Bar.
Contact Us
SCF 503, 2ND Floor Motor Market, Manimajra, Chandigarh, Chandigarh, 160101, India
Phone :+918045801215