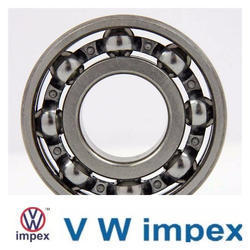 Stainless Steel Ball Bearing
Product Description
AISI 440C stainless steel ball bearings
AISI 440C stainless steel ball bearings, resistant to rust, corrosion, and high temperature, are available from stock, in the series of 6000, 6200, 6300, 6800, and 6900.
Higher resistance to rust and corrosion than 52100 chrome bearing steel
Higher resistance to rust and corrosion than 52100 chrome bearing steel
Higher resistance to chemicals
Available for use at high temperature (operating temperature limit approximately 50 degree C higher than that of bearing steel)

AISI 304 stainless steel Ball bearing
AISI 304 stainless steel, widely used as corrosion- and heat-resistant steel and also as nonmagnetic steel, is most suitable in corrosive environments where AISI 440C stainless steel can not be used.
Higher corrosion resistance than AISI 440C stainless steel ball bearings
Available for use at high temperature with heat-resistant grease
Non-magnetic
Difference in properties by the material used

AISI 630 stainless Ball Bearing
AISI 630 stainless is excellent in corrosion resistance and can be hardened by heat treatment. AISI 630 stainless steel ball bearings can offer longer operation life under various corrosive environments with the excellent corrosion resistance and hardness.
Corrosion resistance superior to AISI 440C stainless steel ball bearings.
Can be used for heavy-load and high-rotation applications for which AISI 304 stainless steel ball bearings would be unsuitable.

Available for various types of applications with its heat- and chemical-resistant fluorine grease pre-packed as standard lubricant.

Hybrid type with silicon nitride ceramic balls.

Different properties due to the material used.
| | | |
| --- | --- | --- |
| SS 606 ZZ | SS 6300 ZZ | SS 6911 ZZ |
| SS 607 ZZ | SS 6301 ZZ | SS 6912 ZZ |
| SS 608 ZZ | SS 6302 ZZ | SS 6913 ZZ |
| SS 609 ZZ | SS 6303 ZZ | SS 6914 ZZ |
| SS 6000 ZZ | SS 6304 ZZ | SS 6915 ZZ |
| SS 6001 ZZ | SS 6305 ZZ | SS 6916 ZZ |
| SS 6002 ZZ | SS 6306 ZZ | SS 6917 ZZ |
| SS 6003 ZZ | SS 6307 ZZ | SS 16005-ZZ |
| SS 6004 ZZ | SS 6308 ZZ | SS 16006-ZZ |
| SS 6006 ZZ | SS 6309 ZZ | SS 16007-ZZ |
| SS 6007 ZZ | SS 6310 ZZ | SS R4 ZZ |
| SS 6008 ZZ | SS 6311 ZZ | SS R6 ZZ |
| SS 6009 ZZ | SS 6800 ZZ | SS R8 ZZ |
| SS 6010 ZZ | SS 6801 ZZ | SS R10 ZZ |
| SS 6011 ZZ | SS 6802 ZZ | SS R12 ZZ |
| SS 6012 ZZ | SS 6803 ZZ | SS R14 ZZ |
Contact Us
SCF 503, 2ND Floor Motor Market, Manimajra, Chandigarh, Chandigarh, 160101, India
Phone :+918045801215