Spirol Disc Sprin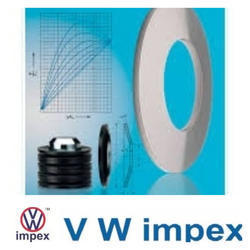 Spirol Disc Sprin
Product Description
pirol Disc Spring
are conically-shaped, washer-type components designed to be axially loaded. What makes Disc Springs unique is that based on the standardized calculations of DIN 2092, the deflection for a given load is predictable and the minimum life cycle can be determined. Disc Springs can be statically loaded either continuously or intermittently, or dynamically subjected to continuous load cycling. They can be used singly or in multiples stacked parallel, in series or in a combination thereof.
PRECISION SHIMS
SPIROL produces Precision Shims with or without a tool to meet lead-time and total cost considerations. Shims are thin pieces of material often used as compensators to fill in small gaps between objects aligning parts, reducing wear and absorbing tolerances between mating components. Shims can also significantly reduce manufacturing time and costs as they eliminate the need for each component to be precision machined in order to achieve the proper fit and function of the total assembly.
Precision Machined Nuts
SPIROL offers a comprehensive line of standard precision-machined nuts designed for a broad set of applications. Our products are clean, burr free, and ready to use. They are superior to cold formed and punched nuts. Threads are manufactured to strict standards with specific gages.
Standard Solid Pins
Specifying SPIROL Solid Pins provides the lowest cost and the most responsive delivery. Standards include SPIROL Straight Pins, Knurled Pins, Headed Pins and Headed Knurled Pins. Standard materials have been selected to meet the requirements of ASME and ISO product standards and to cover a range of requirements as dictated by the market.
Standard Spacers
SPIROL Series SP100 and SP150 Spacers are used as stand-offs, distance bushings, sleeves, axles and pins. They replace cut-off tubing, tubes, ferrules, grommets and turned parts. The most typical application uses the spacer to separate two components. The assembly is joined by a screw dropped through the inside diameter of the spacer.
Contact Us
SCF 503, 2ND Floor Motor Market, Manimajra, Chandigarh, Chandigarh, 160101, India
Phone :+918045801215