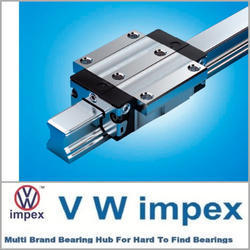 Rexroth Linear Motion Guide Way
Product Description
Rexroth Linear Motion Guideway:
Rexroth offers a comprehensive range of profiled rail system products
as an end-user, you will always find that rexroth stocks the right product for your specific needs
Rexroth ball rail systems are ball-bearing longitudinal guides. They are available in eight common standard sizes
Our customers fit them to machine tools, industrial robots and to an extremely wide range of special machines
E-line rail system they were developed for precision applications calling for highly accurate guidance and high rigidity, E.G. In machine tools. In the meantime, a great variety of other applications for rail systems have emerged where high rigidity and accuracy are frequently not the most important considerations. Rexroth's eline range of profiled rail systems was developed for applications of this kind, especially for light machinery and for handling and positioning movements where the main emphasis is on economy and durability.
Roller rail system Rexroth roller rail systems are compact, roller-bearing linear guides with a very high load capacity and extreme rigidity, available in sizes 25 to 125 they are used successfully in a wide range of applications, from machine tools, printing machines and paper manufacturing plants, spraying units and industrial robots, to stamping presses and heavy machinery in general.
Linear bushings & shafts Rexroth linear bushings and shafts have a proven track record extending back several decades in general machinery, special machinery, jigs and numerous special application.
Precision ball screw assemblies:
Rexroth offers a wide range of screw assemblies
Screw assemblies are units converting rotary motions into linear motions or vice versa
in this connection, the most important products are the ball screw assembly and the planetary screw assembly
As user, Rexroth will always provide you with the suitable product for your specific tasks
Ball screw assembly rexroth ball screw assemblies provide the constructor with manifold possibilities for solving transport and positioning tasks with driven spindle or also driven nut. No matter whether highest linear velocities, maximum load ratings or minimum construction lengths, you will always find the perfect solution.
Planetary screw assembly with the planetary screw assemblies, Rexroth enters the top screw assembly performance classes. The powerful drive elements are particularly suitable for use in the construction of medium- and heavy-duty machinery like presses, machine tools and plastic injection molding machines.
Contact Us
SCF 503, 2ND Floor Motor Market, Manimajra, Chandigarh, Chandigarh, 160101, India
Phone :+918045801215