RBC Thin Section Bearing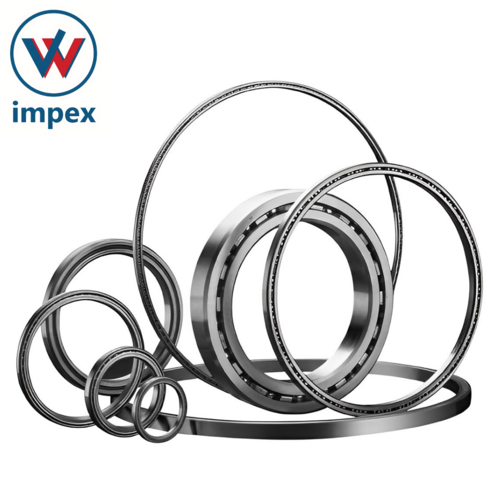 RBC Thin Section Bearing
Product Description
RBC Thin Section Bearing manufactures many custom bearings designed to optimize bearing performance for specific applications. Special features include changes in radial play, lubricants, materials, preloading and design. Contact your RBC Sales Engineer for your custom bearing needs.
Challenge us: There are many design options available to solve difficult application problems.
Materials
The standard bearings shown in the catalog have SAE 52100 steel rings and balls. RBC Thin Section Ball Bearings can be manufactured from other speciality bearing steels to provide corrosion resistance, high temperature capability, alternative load capacity or chemical compatibility.
Rings. RBC has manufactured thin section ball bearings from SAE 440C stainless steel to provide corrosion resistance. As an alternative to stainless steel rings, the entire surface of the rings can be plated with nodular thin dense chrome (TDC). This plating, which meets AMS 2438, achieves a molecular bond that will not flake, peel or separate from the base material. The TDC plate has a hardness of HRC 70 - 78 and can withstand temperatures well beyond the range of the base material.
Special RBC Thin Section Ball Bearings have been manufactured from Aluminum, 300 Series Stainless Steel, 17-4 Stainless Steel, and other metals.
Balls. Some special ball materials available include 440C Stainless Steel, 300 Series Stainless Steel, Silicon Nitride and M-50 Steel.
RBC Thin Section Ball Bearings
Precision-engineered solutions for aerospace, semiconductor, and custom machinery applications.
K-Series 52100 Steel
J Series Sealed Bearings
N-Seris Thin Dense Chrome Coated
P-Series 17-4PH
R-Series Zic-Nickel Plated
S-Series 440C Stainless Steel
Simplex Series
Y-PWI Series
Thermal-Comp
Contact Us
SCF 503, 2ND Floor Motor Market, Manimajra, Chandigarh, Chandigarh, 160013, India
Phone :+918045801215