RBC Heavy Duty Needle Roller Bearing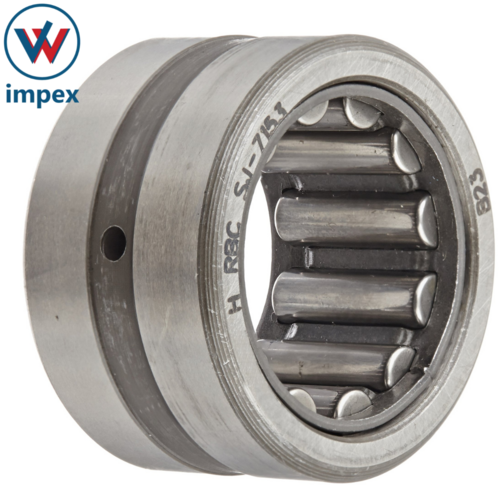 RBC Heavy Duty Needle Roller Bearing
Product Description
RBCproduces an extensive heavy duty needle roller bearing product line from 1 inchouter ring diameter to 12 inch outer ring diameter. RBC has the capability tomanufacture special designs up to a 39 inch outer diameter.
TheRBC SJ series of Pitchlign heavy duty needle roller bearings are supplied instandard envelopes in both sealed and unsealed configurations. There are eightpossible seal configurations. The seals can include double or single seal withthe seal lip turned inward or outward. The seal can be mounted in the radiusend of the ring or the chamfered end of the ring for optimum mountingvariations.
RBC'spatented TJ Tandem Roller heavy duty needle roller bearings increase thecapacity of the standard Pitchlign SJ series from 10 percentage to 40 percentage while maintainingthe standard SJ envelope dimensions. The TJ design gives the heavy-duty needleroller bearing 37 percentage to 200 percentage greater life over a standard single pocket bearing.These bearings are also available in sealed and unsealed configurations.
RBCheavy duty needle roller bearings present a wide variety of designs. The TJTandem Roller and Pitchlign SJ Series heavy duty needle roller bearings areoffered in a double-row design. The TJ and SJ roller bearings can also bematched with an inner ring or run directly on a shaft. RBC inner rings can beused separately or as an inner race for complimentary SJ or TJ roller bearings.The inner rings range are through hardened and precision ground.
TheRBC SJ and TJ heavy duty needle roller bearing designs are easy to install andare especially beneficial in compact designs because of their high loadcapacity and small sectional height. The caged rollers allow for the RBC heavyduty needle roller bearings to be used in high-speed applications.
RBC heavy duty needle rollerbearings can be found in the following applications:
Gear pumps

Mud pumps

Oil field pumping jacks

Helicopter rotors and transmissions

Telehandlers

Material handling equipment

Hydraulic pumps

Sheave Blocks

Hoist drum shaft

Marine crankshafts and connecting rods

Pipe handling tables in steel mill equipment

Paper punch presses

Planet gears and main shaft bearings of a clutch drive or mechanical press

Calendar rolls in textile machinery

Railroad tampering equipment
Contact Us
SCF 503, 2ND Floor Motor Market, Manimajra, Chandigarh, Chandigarh, 160013, India
Phone :+918045801215