ELESA and GANTER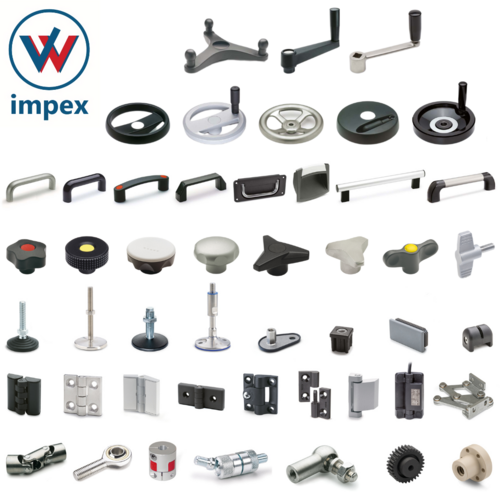 ELESA and GANTER
Product Description
ELESA + GANTER is a worldwide sales joint-venture set-up to offer the widest product range of standard machine elements for the mechanical industry. Highly reliable products ensuring perfect functionality with a unique design represents the ELESA+GANTER distinctive quality code.

ELESA S.p.A. (Monza, Milan, Italy) and Otto Ganter GmbH & Co. KG (Furtwangen, Germany) have been co-operating for more
than 45 years combining their expertise, with the aim to develop market synergies leading to the creation of the widest product range available worldwide. The combination of ELESA know-how in design and manufacturing of engineering plastics with GANTER expertise and precision in metal parts makes ELESA+GANTER a unique range.


Operating Elements
Operating elements include different types of steering handwheels and crank handles with various diameters, for operating on machine tools and equipment. They are provided with or without handle. Different designs and materials are available: techno polymer, Duroplast, aluminium or stainless steel. Ergonomics and original design awarded by the most prestigious international juries for Industrial design. In this group we find spoked handwheels, solid handwheels, arm handwheels and crank handles.
Clamping Knobs
Clamping operations are carried out continuously and repetitively. Perfect ergonomics and safe grip are required to ensure efficient clamping action and maximum comfort for the operators. Star and lobe knobs, knurled knobs and wing knobs for applications in different industries, available in different materials: stainless steel, techno polymer, phenolic based Duroplast, aluminium. Clamping elements available also with limiting-torque mechanism to protect application surfaces; coloured centre caps; soft-touch coating to absorb vibrations and improve grip; Clean line in RAL 9002 white colour for applications in medical environments and stainless-steel metal inserts ensure corrosion resistance, and many others.
Clamping Levers
Adjustable handles and lever handles are ideal for repetitive manual clamping operations where the lever turning angle is limited due to lack of space. Elesa+Ganter range includes various types of clamping levers, also known as clamping handles, made in techno polymer, metal, entirely in stainless steel or with stainless steel inserts. Ergonomics, design and reliability of production materials results in a very wide range that allows applications in various sectors. Clamping levers present two types of assembly: with brass bushings or galvanised steel stud, with different threads and lengths.
U-Handles
Elesa+Ganter range presents a wide variety of handles: bridge handles, arch and finger handles, folding handles, ledge and safety handles, flush pull handles and tubular handles. Design, ergonomics and the possibility of customisation allow them to meet the requirements of the most diverse industrial sectors and are particularly suitable for the food, office furniture, fitness and medical markets too.

Joints, Couplings, Gears
Couplings create connections between drive shafts and driven shafts in order to transmit rotary motion and torque. Universal joints transmit rotation and torque from shafts that can be at a changeable angle to each other. Bevel gear boxes, also called angular gears, transmit and redirect torques and rotational movements. Worm gear reducers are very robust but still lightweight.
Levelling Elements
Hinges

Contact Us
SCF 503, 2ND Floor Motor Market, Manimajra, Chandigarh, Chandigarh, 160013, India
Phone :+918045801215