Cross and Morse Freewheel Clutch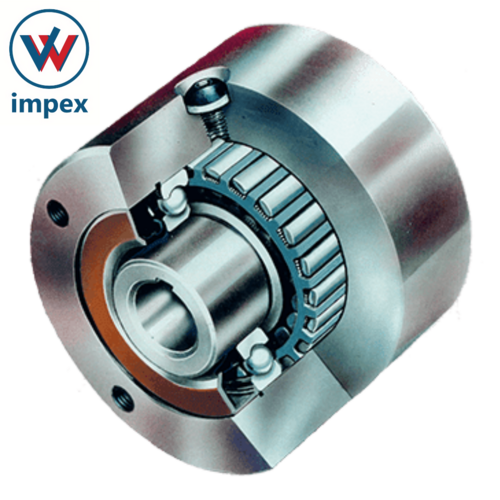 Cross and Morse Freewheel Clutch
Product Description
C

ross & Morse Freewheels provide positive one-way drive with high torque capacity within a small unit. A ratchet and pawl mechanism is used with materials and heat treatment selected for a long operating life, with safe, positive transmission. IRF's are suited to low speed (up to 150 r.p.m.) overrun applications where shock loads may be encountered, such as Agricultural machinery. Standard stock units are available in two configurations; as standard sprocket for 1/2 inch pitch chains, or with a drilled flange to fit conveyor rollers, pulleys, or wheels. Standard units have threaded bore to cycle standards, but a range of Adapters enable fitting to keyed shafting. IRF clutches are also stocked in part-assembled condition for reworking to custom design, including finish parallel bore and key seat. Many special Industrial Ratchet Freewheels have been manufactured to meet customers' requirements with torques over 1,000.
Cross Safegard Overload Clutches

The Safegard series of overload clutches were developed to provide overload protection of high torque values with a compact unit. Directly interchangeable with other units in the market, this series offers low cost precision with minimal maintenance for a long reliable service life.
Safegard clutches are in two basic series, the Standard series, for optimum speed and torque, and the Mini series, for lower cost option on slower speed drives. Both series are also available as shaft couplings.
Torque Limiters & Couplings

The Morse Torque Limiter is a protective device that LIMITS TORQUE transmitted in a drive system by slipping when the torque demand exceed a preset value as a result of shock loads, overloads, or machine jams. It automatically re-engages when the overload torque has passed; no re-setting is required. It prevents machine damage and eliminates costly breakdown time.
The Torque Limiter utilises spring loaded friction surfaces for its operation; slip torque is preset by adjustment of the spring force. The Torque Limiter can be used with a sprocket, gear, sheave or flange as the center member clamped between two friction facings. Offered complete with a range of specially machined plate wheels and shaft to shaft couplings, with torque range 3 - 8540 Nm.

Tensioners
Spring loaded tensioners extend the life of roller chain, particularly on long centre distance drives. These products are suitable for simplex and multi strand applications.
Rotary Tensioner: Automatic 90* tensioning action.
Linear Tensioner: Automatic linear adjustment.
Straight Racks
Straight racks are available in standard lengths of 0.5, 1.0, 2.0 and 3 metres machined to 20* PA with pitch range 1 Mod. to 8 Mod. These are designed to combine with the standard spur gears to provide low cost conversion of rotary to linear motion.
Contact Us
SCF 503, 2ND Floor Motor Market, Manimajra, Chandigarh, Chandigarh, 160013, India
Phone :+918045801215