Creative Motion Control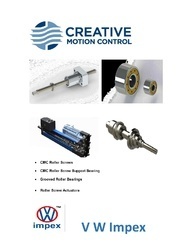 Creative Motion Control
Product Description
Creative Motion Control

The CMC High Performance Roller Screw (PRS) Series provides a high force electrome-chanical solution to convert rotary motion in-to axial force, or vice versa.

CMC roller screws offer outstanding reliabil-ity and flexibility for the most demanding ap-plications. CMC roller screw features in-clude:

Longer Life
High efficiency, even with shallow leads
Steep lead capacity
Very high load capacities
High rotational speed and acceleration
Stiffness/shock tolerance.
CMC Performance Roller Screw delivers, typically sized traditional bearing supports are inadequate to react the PRS thrust loads and, consequently, the required bearings become too large and too expensive to be practical for most high thrust applications. In order to re-lieve this problem and enable the full poten-tial of the Performance Roller Screw, CMC has developed the patented Roller Screw Sup-port Bearing (RSSB).

The RSSB eliminates the bearing limited condition that plagues many high force screw applications. By delivering dynamic capacity ratings that far exceed those of traditional an-gular contact ball bearings, the CMC RSSB affords tremendous life improvements, elimi-nating the constant bearing replacement that limits lesser support bearing technologies.

The patented CMC Grooved Roller Bearing (GRB) difference lies in the simplicity of more contact points in the same physical space due to the grooved design.

Specifically designed to match the most common envelope dimensions of angular contact bearing duplex or quad pack sets.
In this way, the CMC GRB can be an exact di-mensional replacement for existing designs where significantly longer life is desired.
With new designs, the Grooved Roller Bearing delivers a unique opportunity for size and weight reduction. By providing a smaller yet more capa-ble bearing, overall system size and weight are optimized, and next higher assembly costs are reduced.

Also, in linear motion applications, by providing a smaller bearing the ball or roller screw shaft complexity is simplified, overall system weight is reduced, and next higher assembly costs opti-mized.
Few Part no below

200S12.32.40
200S15.35.44
200S17.40.48
Contact Us
SCF 503, 2ND Floor Motor Market, Manimajra, Chandigarh, Chandigarh, 160013, India
Phone :+918045801215