Carter Bearings USA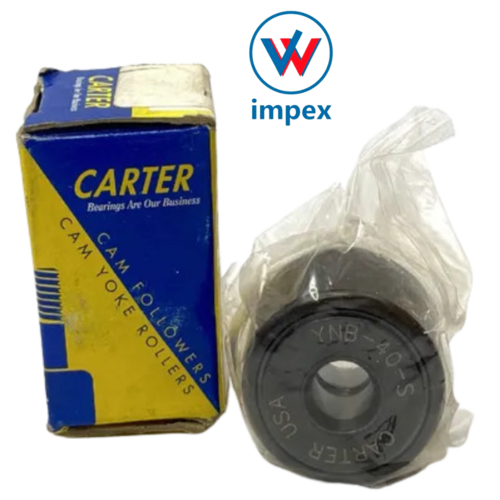 Carter Bearings USA
Product Description
Carter Manufacturing specializes in prototyping and manufacturing high precision bearings for both standard and specialized applications in industries such as chemical, food processing and industrial. Carter maintains a large inventory of all of their standard bearings which means they can meet your needs promptly.
Carter Bearing, with headquarters in Grand Haven, Michigan manufactures cam followers designed to meet customer needs all over the world. Carter Bearing also has the ability to produce custom bearings to fill the needs of any size customer from small end user to large OEM outfits.
Carter Neverlube Cam Followers and Cam Yoke Rollers

Carter's advanced design self-lubricating sleeve bearing provides continuous, dependable lubrication for the life of the unit. This advanced design self-lubricating sleeve bearing has a heat-treated steel roller with machined lubrication reservoirs that are pre-filled with specially developed lube mixtures. As the bearing operates, this lubrication penetrates through a porous inner sintered bronze bushing by capillary action providing continuous, dependable lubrication for the life of the bearing.

The permanent lubrication not only eliminates leakage due to over-lubrications, but the plastic lube mixture reverts to its original consistency when the bearing is not in use, Carter Unsealed Crowned Cam Follower preventing any leakage. This is an important advantage in applications such as food processing and pharmaceutical manufacturing. Because there are no internal moving elements, Neverlube bearings offer trouble-free operation in a wide variety of applications, including situations where the equipment is subject to frequent wash downs. Neverlube bearings offer many important benefits to engineers who are developing new equipment for special applications, or redesigning existing equipment to achieve competitive advantages such as lower cost and longer service life.

The simplified design of Neverlube bearings can mean lower cost - The self-lubricating feature also helps reduce maintenance costs and assures adequate lubrication at all times, greatly reducing the possibility of bearing failure and unscheduled downtime. In addition, the Hex Socket, which is an important aid to easy installation and replacement, and which is normally an "extra" is included at no extra cost.

Contact Us
SCF 503, 2ND Floor Motor Market, Manimajra, Chandigarh, Chandigarh, 160013, India
Phone :+918045801215